SHASHAT SAHM-IP KVM is an artificial intelligence system that compact video encoder/decoder, designed to transmit up to 4K video over standard Gigabit Ethernet with low latency, low bit rates(4-20Mbps), and high image quality up to Chroma of 4:4:4. High-performance virtual KVM matrix, It is a fully distributed and decentralization AV&KVM over IP solutions; Benefiting from its serverless design, any single encoder/decoder's bug will not affect the entire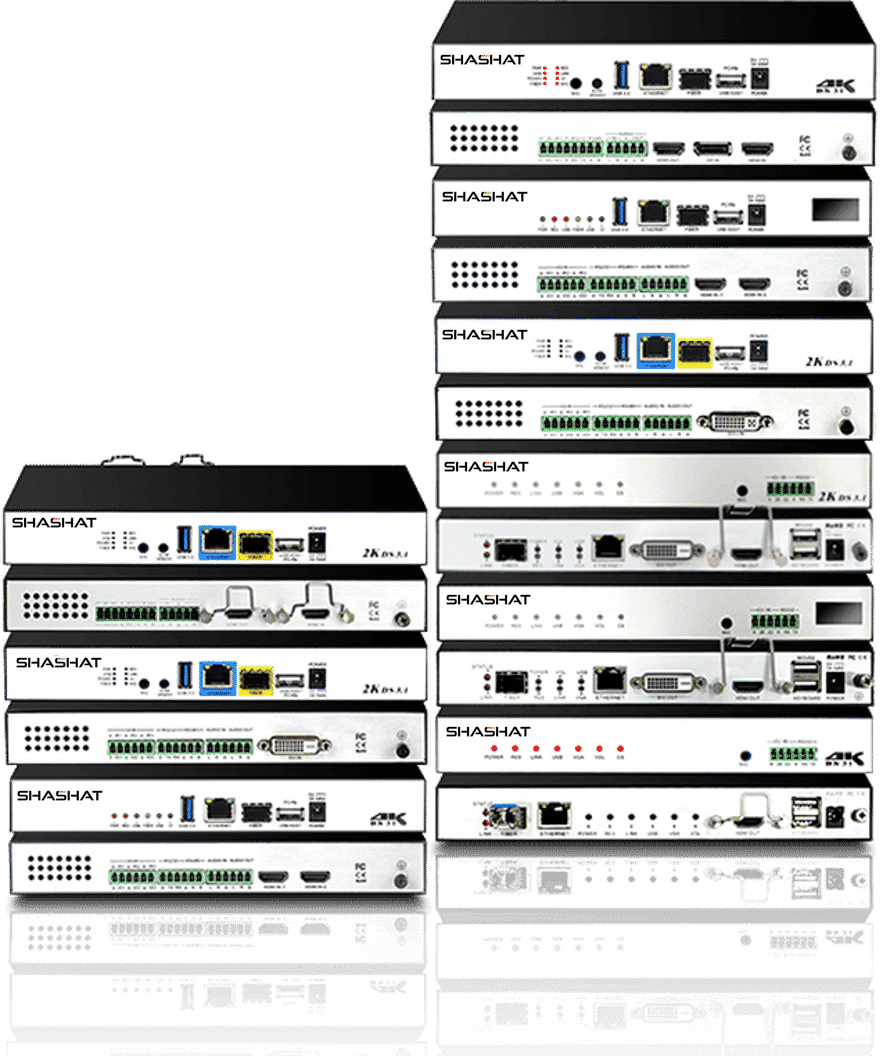 system, It will surely reduce the risk of the system, and add much value to your design of the mission-critical command & control center.
SHASHAT IP Based & KVM System provides all-in-one Command Center Solutions, which are combined functions of the IP KVM, LED/DLP/LCD Wall Control, Smart Workspace, and environment control. Compared to conventional command center solution by video wall matrix
Intuitive Dynamic KVM over IP solutions for use in mission-critical environments, such as command & control, integrated operations centers, network operations centers, emergency operations centers.
(In a Mission-Criticial Environment, Control room, data gathering, information displays, monitoring and incident response promtly is tatical for end users ).
Simplified Cabling, Reduced Infrastructure Costs
Simplify the audio and video system architecture and convert audio and video signals into network signals for transmission. Only short video cables are required for the connection between devices to avoid signal attenuation caused by long cables and reduce construction costs and difficulties
Model

Video Input
Video Output
USB
RS232
RS485
IR & I/O
Audio in/out
Ethernet
SFP(Optional)
Redundant Power
Video Compression
Video Resolutions
Streaming Protocol
Bit Rates
Copy Protection
Latency
Power Consumption
SAHM-IP KVM-4K-IN

2 x HDMI
NONE
1 x USB
x1
x1
3 x IR, 3 x I/O
1 in +1 out
RJ45
SFP Duplex LC Connectors
Optional
H.265/H.264
Up to 3840×2160
RTSP
4-20Mbps
HDCP 1.4, 3DES
Up to 31ms
15-30W
SAHM-IP KVM-4K-OUT

None
1x HDMI, 1x DVI

2 x USB
x1
NONE
1 x IR, 1 x I/O
3.5mm jack
RJ45
SFP Duplex LC Connectors
Optional
H.265/H.264
Up to 3840×2160
RTSP
4-20Mbps
HDCP 1.4, 3DES
Up to 31ms
15-30W
SAHM-IP KVM-HD-IN

2 x HDMI
None
1 x USB
x1
x1
3 x IR, 3 x I/O
1 in +1 out
RJ45
SFP Duplex LC Connectors
Optional
H.265/H.264
Up to 1920×1080
RTSP
4-20Mbps
HDCP 1.4, 3DES
Up to 31ms
15-30W
SAHM-IP KVM-HD-Out

None
1x HDMI, 1x DVI

2 x USB
x1
NONE
1 x IR, 1 x I/O
3.5mm jack
RJ45
SFP Duplex LC Connectors
Optional
H.265/H.264
Up to 1920×1080
RTSP
4-20Mbps
HDCP 1.4, 3DES
Up to 31ms
15-30W